Today (September 22, 2016), two interpretive panels, ones that contain the same content as that found on the two large panels inside the dormitory  in a seating area adjacent the front doors) that detail the lives of Isabella and William Gibbons in both slavery and freedom and also situating their lives in the context of slavery at UVA, were installed along the main sidewalk on the Alderman Road side of the building.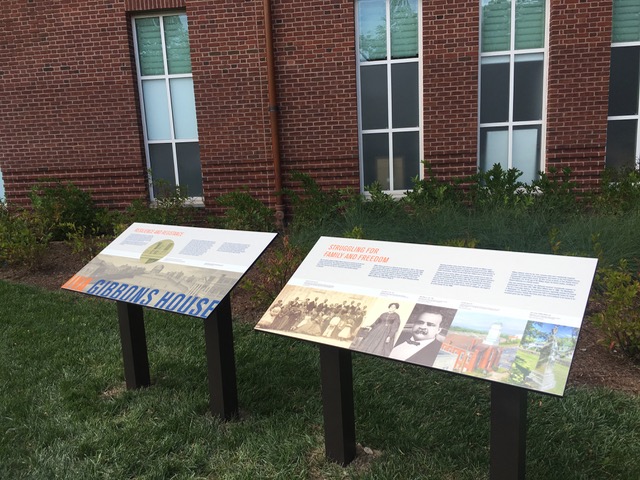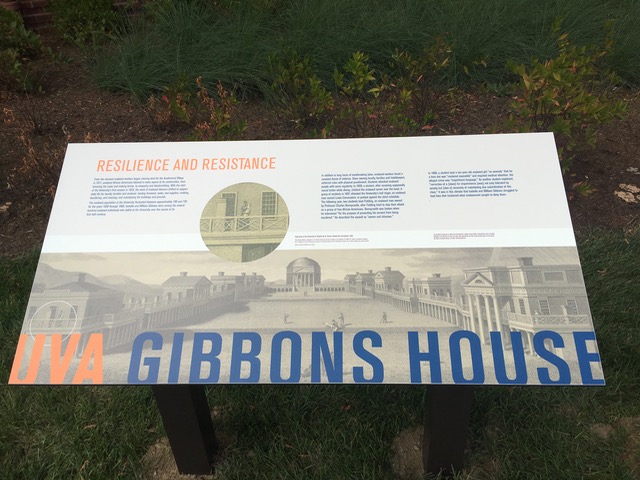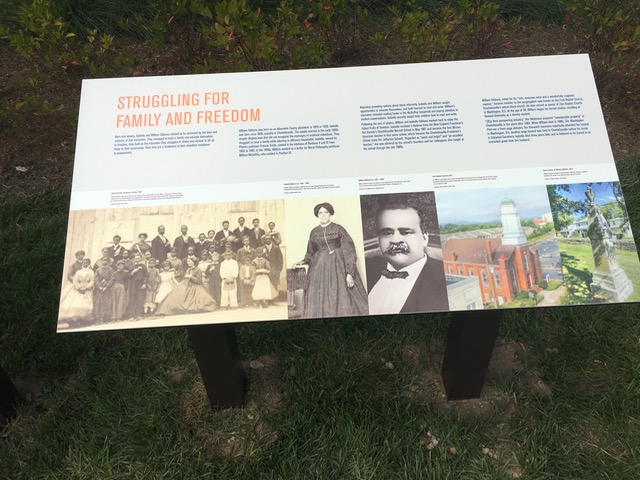 To read the panel text, see our earlier post about the panels inside the dorm: http://slavery.virginia.edu/?p=102
This pedestrian walkway connects all of the Alderman Road dorms to McCormick Road (so, a high traffic area!). The panels are near the front door of the building, are visible from the street, and are across the street from the University's largest gym and 1/2 block from the football stadium.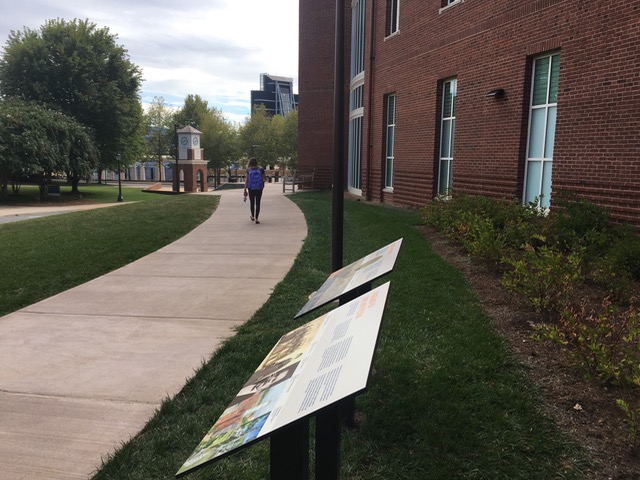 The commission sought to add the external panels because the dormitory, home to 200 students yearly, is not open to the public, so the fine interpretive panels inside could not really be part of our Enslaved African Americans at UVA Walking Tour (maps are available at the Rotunda Visitor's Center and this month, the walking tour is part of the Virginia Foundation for the Humanities Landscapes of Slavery and Segregation Exhibit. This audio tour can be accessed directly online. We are hoping to develop a permanent website and continue the cell phone audio tour.
The walkway that passes by Gibbons House ultimately winds its way along Alderman to the Gooch-Dillard dormitory complex, where it cuts through the woods and up the hill to the Hereford College dormitory complex. Upon completion (and as part of some renovations to the Hereford plaza), it will pass directly adjacent to a burial ground for the enslaved that was originally part of Reuben Maury's Piedmont plantation (now, remnants of that property include the two dormitory complexes, the Piedmont faculty housing development, and the Fontaine Avenue Research Park). The Maury home still stands in some form as faculty housing (with an old ice house adjacent to it). The plantation and the burial ground upon it were not owned by the University until the twentieth century.
By the time UVA purchased the property, the burial ground was in a heavily wooded area with no grave markers of any kind remaining. It is believed that 75 enslaved people were buried there. Currently, there is a slate marker reognizing the cemetery. The commission is working with the Office of the Architect and UVA Housing to demarcate the cemetery boundaries and install similar external signage interpreting the Maury plantation, and, if possible, sharing some details about the enslaved people that lived and died at Piedmont while laboring for Maury and his family.
This is all part of a larger effort of formal and more permanent acknowledgement of the history of slavery at UVA that we continue to work on.
-Kirt von Daacke